I thought it would be a good idea to document my pregnancy journey, so I will start with the first trimester! The first trimester is the first twelve weeks of pregnancy. Below are photos of my bump at 4 weeks and 12 weeks.

It was around Christmas last year that Ian and I decided we'd like to start trying for a baby, so that's when I stopped taking The Pill. It can often take at least six months to conceive after stopping this type of contraception, so we were rather lucky that it only took about four months for us! Because it was something we both wanted so much, we were rather impatient and every time I thought I might be pregnant, I was really disappointed when I wasn't!
It was during a visit to my sister's beauty room that the possibility that I might be pregnant came about. I hadn't actually thought about it much that month, but I happened to mention to my sister that I'd been extremely tired lately and I'd had some very weird dreams! Another symptom for me was tender breasts. My sister suggested I take a pregnancy test when I got home, but I wasn't sure as I didn't want to be disappointed.
Well, curiosity got the better of me and I took a test late that afternoon. I didn't want to look at it, just in case it was negative. When I did look, the positive couldn't have been stronger and this was a day before my expected period! I was so happy and the only person I could talk to at the time was Wilson, our dog! Ian was having a crap day at work and was home late that day, plus I had work that night. I placed the test inside a memory box Ian had given me as a gift the year before and tried to keep a straight face when he arrived home. I said I'd found something to put in our memory box and told him to take a look. When he did, his reaction was complete surprise and disbelief and then joy and excitement - it was a wonderful moment. We told our parents and siblings that evening and kept it quiet from everyone else until after the first scan.
I think I was really lucky compared to some women during the first trimester because my main symptoms were extreme fatigue, lack of appetite, sore boobs and feeling nauseous - I only had a couple of vomits and I think they were due to something I'd eaten. I'm so glad I didn't suffer from morning sickness! Surprisingly, my bra size went up a full cup size at only five weeks pregnant and my stomach was very bloated from the start, so I often looked like I had a baby bump already.
I did have some really low days where I had zero energy and just felt awful, but amongst that it was a really exciting time for us and something very new and bizarre to both of us!
My midwife appointments all went well and I had routine bloods taken once during the first trimester. My midwife is really lovely and always makes me feel at ease. I'm not the best with needles, but she has been great! I was offered vitamins to take, but I'm really bad at swallowing large or uncoated tablets, so these weren't for me. Instead I am taking Folic Acid daily along with a small daily dose of dispersible Aspirin to help reduce my chances of getting pre-eclampsia which some of my family have had during pregnancy.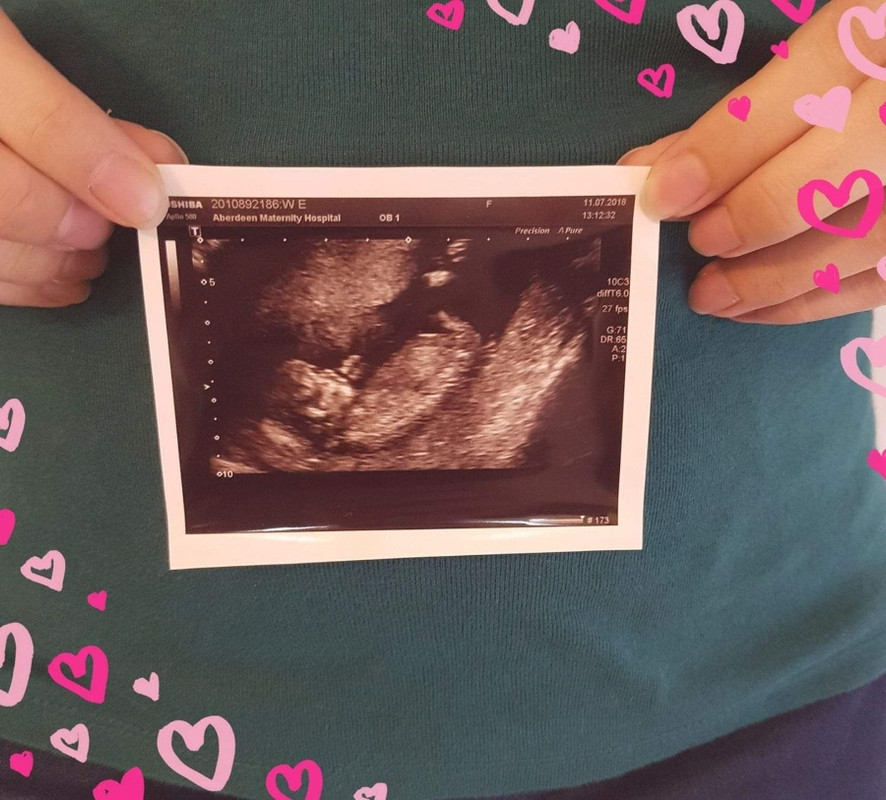 The twelve week scan was so fascinating and it definitely makes everything seem very real all of a sudden! Our baby was very wriggly and has very long legs, like me! We got some lovely scan photos. We couldn't wait to announce our news to everyone! I found out I was exactly thirteen weeks pregnant on our scan day, so just a few days out from our calculations.
I'd love to hear everyone else's first trimester experiences!
Speak soon.
Love,
Emma
xxx